29. Januar 2023
Rubrik Interviews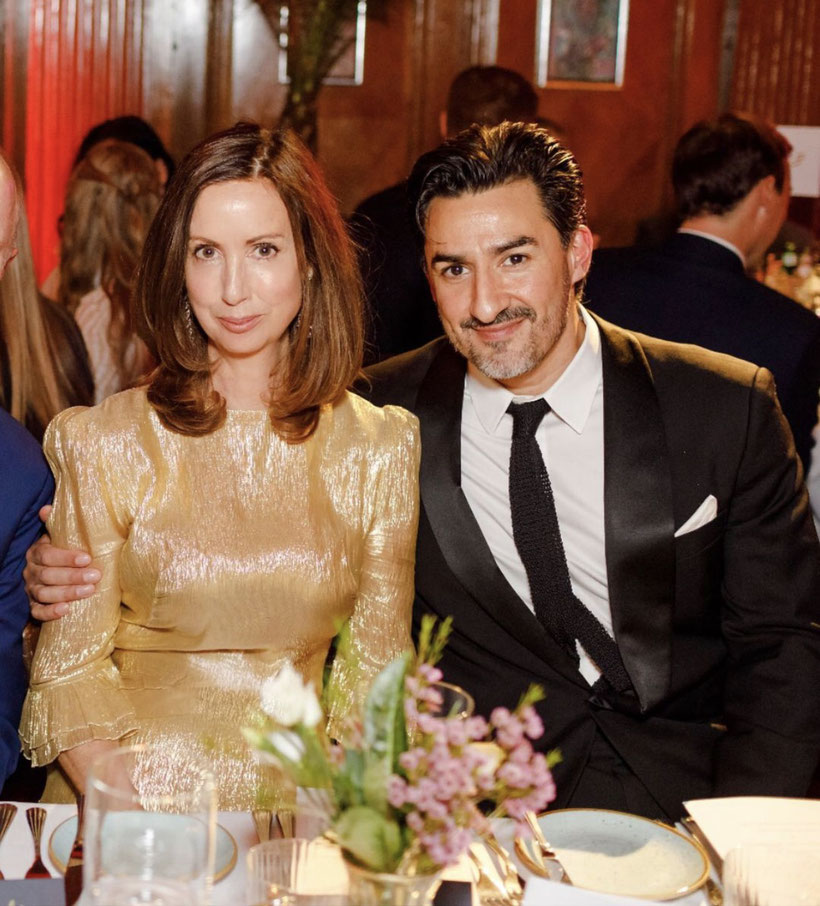 Lucy Woodruff loves what she is doing. And she is doing a lot. Passionate about opera and the art of singing, her Divas & Scholars events in London´s most exquisite Club Tramp are one of a kind venues to not only "Meet and Greet" well-established opera singers, but to learn about their art of singing, acting and living the opera life.
As a "One-Woman-Show" Lucy is in charge of everything which circles around liasing with venues, PR, advertising, hosting the events and eventually interviewing the artists. But as if this was not enough, Lucy has still  been finding the time and energy to work on a pilot documentary about the Royal Opera House and the Coliseum in London.
Keen on establishing this first episode into what could well turn out to be a whole series of documentaries about opera houses in the world, I soon learn that Lucy cannot be stopped. She has already chosen her passion projects and will keep on spreading the good news about the magic opera holds in place for really everyone. 
Operaversum: Dear Lucy, when did you discover your passion for classical music in the first place? And what was the key experience that made you initiate Divas & Scholars events in London?
Lucy Woodruff: As far as I can recall, I have always loved all kinds of music including classical. And it started from an early age with piano and singing lessons and I've sung in choirs.  I remember that even as a small child I found operatic voices compelling.
During adulthood I moved to Vienna for three and a half years and became a frequent opera-goer. Moreover I attended some opera talks there as well, which were organized by a very charming American musicologist who taught at the University of Vienna.
After returning to London I was looking for similar classes as a kind of pass-time and unfortunately discovered that there was nothing really comparable on offer. But then the idea took hold of me that it would be so much more exciting if there were sung demonstrations of opera singers complementing opera talks. So I soon started offering little concerts in my drawing room, with some amazing singers and some other expert speakers who I brought along.
I gradually built up a reputation for producing something rather fun and entertaining.  As more and more people wanted to attend my Divas & Scholars events, I had to move to bigger locations. At Cadogan Hall, which is one of the great concert halls in London, I continued running little courses which were attended by about 50 music enthusiasts, including expert speakers and singers from the Royal Northern College of Music.
Operaversum: So my second question already seems redundant, as we already covered the topic about your love for voices. But let me ask you another question: Would you also be interested in interviewing instrumentalists as in accompanists apart from focusing solely on opera singers?
Lucy Woodruff: Absolutely! Accompanists and repetiteurs are ideal interview partners. I make a big fuss about my repetiteurs, because they are the great unsung heroes of the opera houses. Other unsung heroes, I recently learnt, are the dramaturges. Nobody, except for the dramaturges would tell you that… But they are also a very important part of bringing the opera plot on stage to life.
Operaversum: What criterias, Lucy, make you pick an interview partner for your events?
Lucy Woodruff: Well, to be frank, the process for choosing singers is completely random!
Operaversum: So you are not choosing singers to collaborate with, because you like them?
Lucy Woodruff: I obviously do like them. But the process for choosing singers to collaborate with depends on who approaches me. So serendipitous introductions to singers, or singers with whom I have been in touch for a while and who happen to be in London. It sort of works this way. But I really appreciate them all, as they are very special and highly artistic people.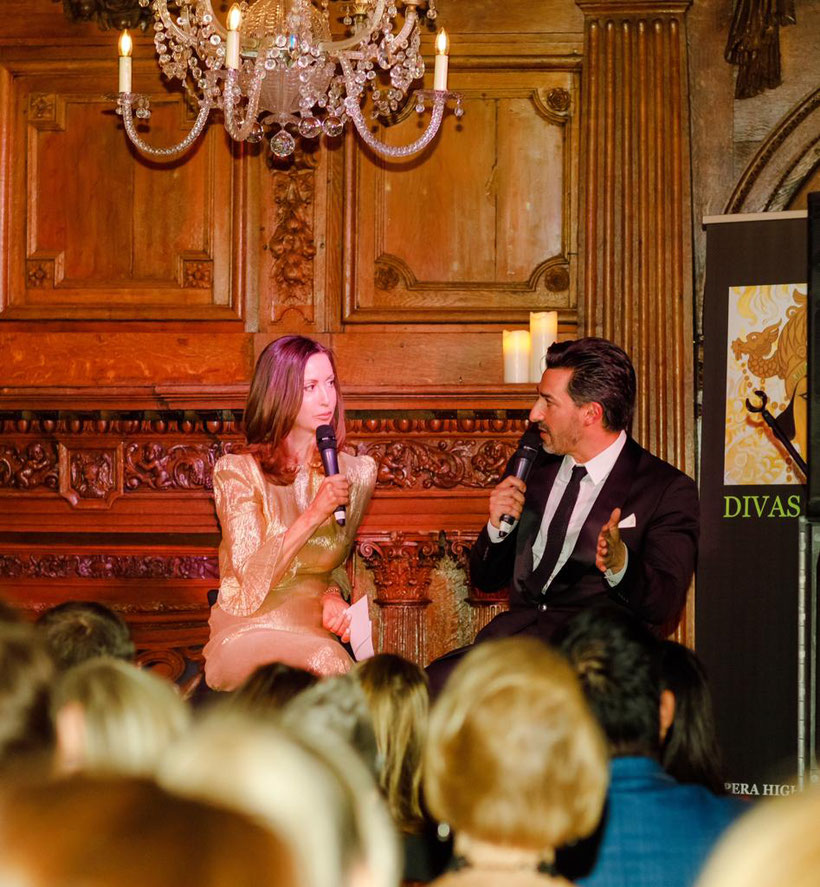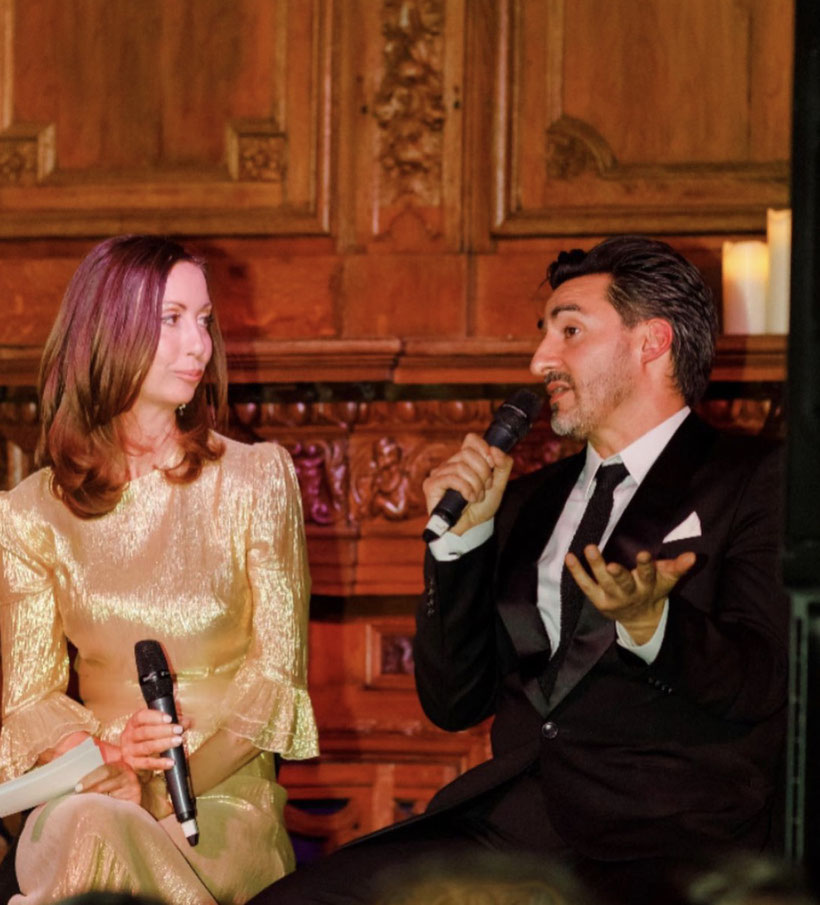 Operaversum: So, if I want to learn more about opera singers, the world of classical music and what it is like to go to the opera, I should definitely attend a Divas & Scholars event?
Lucy Woodruff: Yes, you certainly should and I would be delighted if you came along to my events. Be assured that you learn something new there. Quite often I even have opera singers who join my events in order to learn about a fellow opera singer´s life, repertoire and professional experience.
It may seem surprising, but when I am interviewing a more established singer younger artists often profit from their advice.  I guess, even an expert will rate Divas & Scholars as something that deepens ones knowledge of the opera world. 
Operaversum: In your opinion, what makes Divas & Scholars a one-of-a-kind venue and what input and impressions will I take home with me after such an evening?
Lucy Woodruff:  Divas & Scholars is a satisfying combination of entertainment, education and a great social occasion.  Being in a small space with not more than 150 attendees you feel the vibration of the singer´s voice. You listen to them perform arias up close in an intimate and charming environment and get to know the very personal insights of the opera life they lead.
Another fascinating feature for my attendees is to have the opportunity to chat with the opera singer over dinner, getting to know them as human beings, not just these amazing stage creatures in costumes and make-up! The interpersonal atmosphere of these events is thrilling and everybody seems to enjoy the events so far, especially when one of these fabulous, charismatic characters walks around the tables and chats to everyone.
At such moments everyone feels they are having such a great and unforgettable time. In a way my events are a bit like part of an exclusive experience economy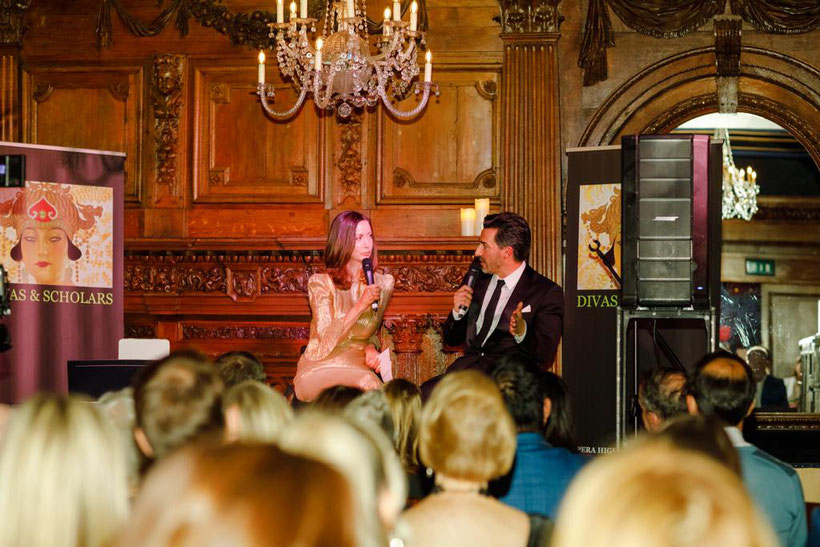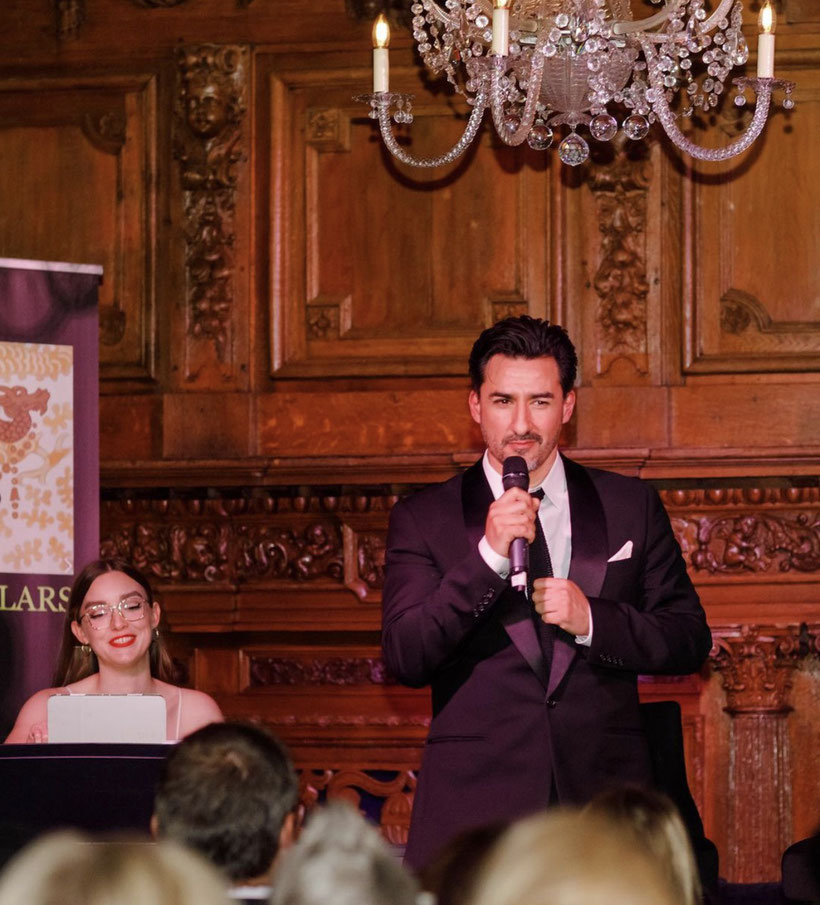 Operaversum: I am also very fascinated to learn that you have been working on a documentary about the Royal Opera House in London. Please, tell me a bit more about your film project, how you started it off and what future milestones are linked to your project?
Lucy Woodruff: Indeed, I am working on a pilot episode of what I hope will become a series of documentaries on the opera houses of the world. As a very visual person, I very much love opera house architecture and therefore find that all these beautiful buildings have such a great sense of occasion, history and magic.
And since I studied Classics and History of Art with a main focus on art and architecture of the ancient Roman and Greek times,  I am keen on digging deeper into the fascinating world of the opera house architecture itself. So my pilot episode looks only at London as a centre of opera since the 17th century and is split into three sections: The history of opera houses in our capital city, the Royal Opera House which is the third theatre on the site in Covent Garden and then the spectacular Coliseum, currently home of the ENO, built in 1904.
Since I interviewed the CEO Stuart Murphy and filmed there, the ENO have lost much of their funding and have been told to move up to the North of England, which is a great shame and in my view a mistake. London is a great centre of culture and it has been wonderful having two opera houses doing very different things.
Hopefully our lovingly shot appreciation of the Coliseum as a centre for opera will help the cause to keep it in London. My pilot documentary is currently in post production in LA and I'm helping the filmmaker with the edit and hopefully it will be beautiful. As for my part in it, I scripted it, co-produced/co-directed it and presented the production alongside the famous architectural historian Dan Cruickshank who is known for hundreds of documentaries.
My ambition is to create the series of documentaries with my cinematographer colleague Hector Abaunza who shares my passion for the project.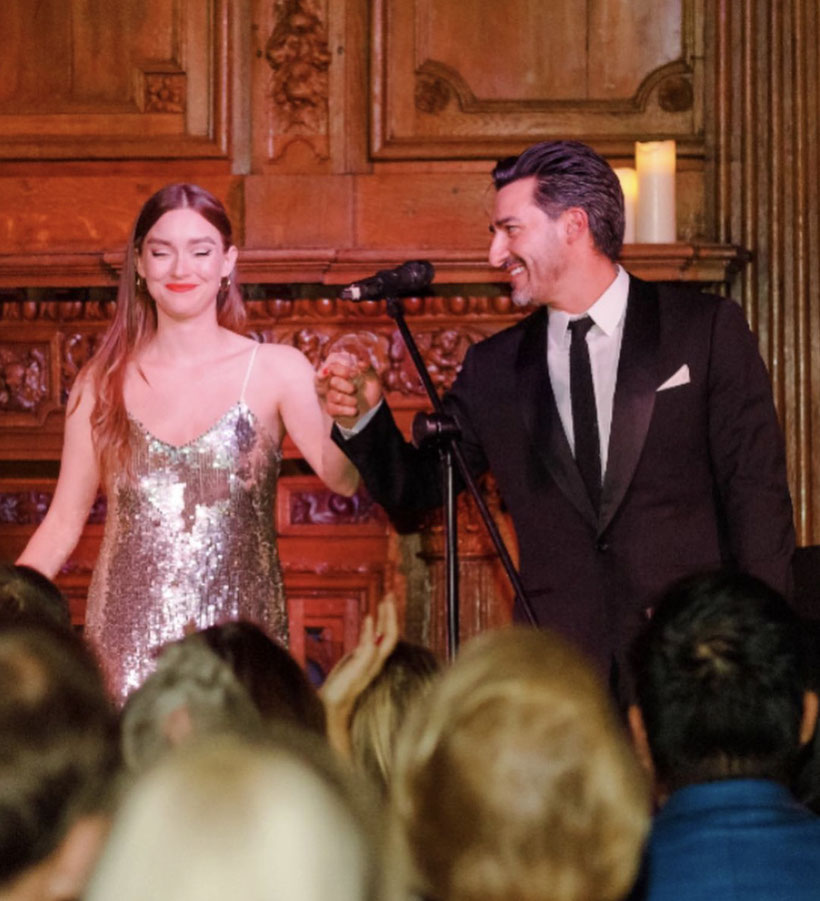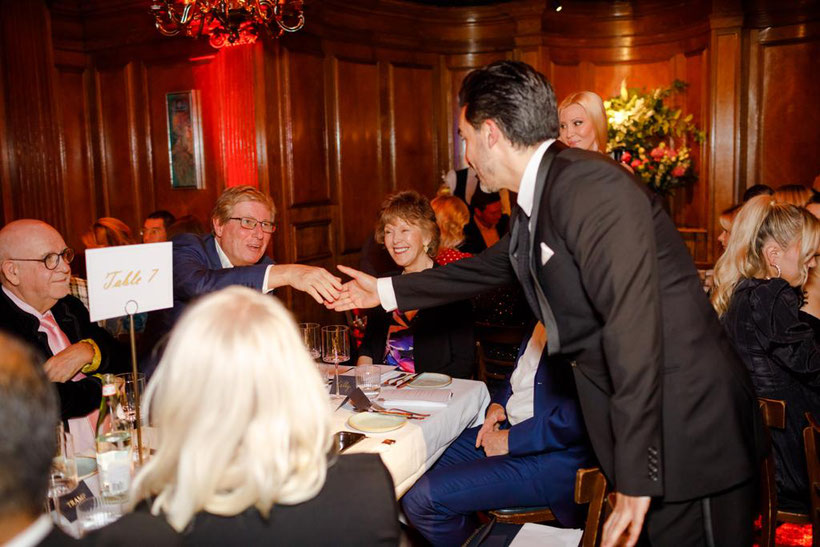 Operaversum: Dear Lucy; if you were told, to choose between one and the other project, which one would you decide for?

Lucy Woodruff: Honestly, I would like to continue doing my opera events as much as I would want to carry on creating a series of documentaries and share my love of all things to do with opera! I do not think that one should exclude the other.
Of course, it all depends on how busy I am getting with any of my projects. But at the moment I very much enjoy developing both projects. You see, the fun factor about the film is that I am basically doing exactly what I have already been experiencing at my events, which is hearing people sing, meeting and talking to opera singers.
The only decisive difference between the two is that the film most certainly may reach a much broader audience than the number of participants taking part at my events. And that might make it a more exciting thing to do in the end. But for the time being, I will keep on furthering and enjoying both projects.
Operaversum: Being a "One-Woman-Show", do you feel empowered by developing all the ideas by yourself or would you at times wish to have a team around you participating and being part of the process?
Lucy Woodruff: Well, as you put it I am a "One-Woman-Show" in that with Divas & Scholars I am responsible for all the tasks connected to my events - getting the performers on board, liaising with venues, PR, advertising, building up my mailing list, choosing menus, hosting the events and interviewing the artists.
So one event already takes up a lot of my energy. But if I am honest with you, I rather prefer to be in control of my events, even though I do love to brainstorm with artists and work on collaborations. I am hoping to arrange some opera trips soon and I will certainly need some help there. 
Operaversum: Looking at the artform of opera as it is still today, do you think, Lucy, musical theaters are out-dated in our modern high-tech-society?
Lucy Woodruff: First and foremost, we should bear in mind that opera is traditional and has a very long history which we should respect and celebrate. Opera like any other form of live performance is not out-dated as it deals with universal truths and emotions recognizable to all of us.
Opera relies on the human voice at its best, a very refined and remarkably trained version, plus great orchestral playing. And the music transcends time. Yet another fact that makes opera anything other than out-dated is that there are many great young singers training and coming into the business which tells me that it is still an art form that people want to be involved with.
And as a multimedia entertainment, with so much technology utilized today, easily being relayed around the world into cinemas, opera can definitely keep up to the standards applied in a modern high-tech world. There is really nothing like the incredible singing and the music of the great opera composers. I hope in my miniscule way to encourage more people to love and understand opera. And I have already made a few converts I think…
Operaversum: And what do you think really makes opera a magic place to be?
Lucy Woodruff: Opera is magic and the experience begins when you commit to an evening at the opera house. Opera houses are wonderful places, great centres of creativity and glamour where one encounters the excitement of a live performance. 
Operaversum: Dear Lucy, what are your personal and professional aspirations for the future?
Lucy Woodruff: My wishes for the future are for good health, happiness and fulfillment for my family and friends and myself. Professionally I hope to continue doing interesting things connected to opera, meeting inspirational people and listening to beautiful voices. I hope to continue doing events.
My next one will be a retrospective with the great tenor Dennis O'Neill, looking back on his marvellous starry career and perhaps watching him work with an up and coming opera singer. He will sing for us too. There are some opera tours in the planning too. I really hope my opera house pilot documentary will be a success and I will have the opportunity to research and present more and travel around the world filming other historic opera houses. 
Operaversum: I will keep my fingers crossed that all your wishes will come true and turn out to be a big success! Thank you so much, Lucy, for the wonderful insights and the very inspirational talk.
---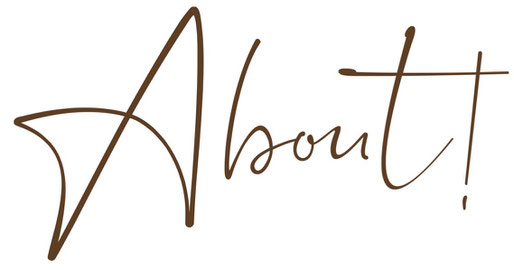 Lucy Woodruff is the founder/director of the Divas & Scholars project.  Her fascination with opera was fuelled by a few years spent living in Vienna. On returning to London she began organising recitals for rising star opera singers and later developed a successful programme of lecture-recitals and master classes at the Cadogan Hall, London.
She has collaborated with conservatoires, Opera Rara, The Grange Festival and the National Opera Studio on a variety of projects.  Keen to promote emerging talent as well as to share her love of the genre, Lucy has created these unique opera appreciation events as a platform for specialist lecturers and opera singers.
A choral singer herself, Lucy has a deep respect for the art of the opera singer.  Lucy read Classical Studies at the University of London. Her early career was in public relations. She spent four years living in Thailand where she researched Buddhist Sculpture and gave guided tours at the National Museum in Bangkok.
After completing an MA at the University of London she lectured on Southeast Asian sculpture at SOAS. The experience of working on courses in an academic environment inspired her to initiate the Opera Studies Series with luminaries of the opera world.  Lucy is now developing an opera tours project and a series of opera related documentaries.
For more information on Lucy Woodruff´s Divas & Scholars events, please find below a link to her website:
Divas & Scholars – Divas & Scholars (divasandscholars.org)
Contact details:
lucy@divasandscholars.com
---